Implants
Dental implants are considered the most successful dental treatment available today for the replacement of missing teeth.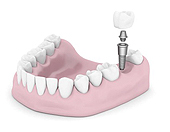 Implants consists in placement of a titanium implant in the jawbone, to act as an "artificial root" which supports the artificial crown and will blend seamlessly with the rest of the natural teeth.
Implant restorations are done in several steps. In one step the titanium implant is placed in the jawbone. Once the implant becomes stable in the jawbone (osseous integration) the final step consists in the fabrication and placement of the permanent crown.
Some dentists advocate a "one step" implant where the crown is placed immediately after the implant placement. Although faster, the one step implant option may have an increased risk of failure, as pressure is applied on the implant before integration. At our office, we recommended the two step implant procedure, as its offers superior predictability and success rates. We want our patients to take full advantage of the longevity and esthetics implant restorations can offer.
Dental implants are recommended for patients with one or several missing teeth to maintain the integrity, appearance and functionality of the smile. In addition to looking and functioning like natural teeth, implants have an advantage even over natural teeth, as they can not decay, and as such they can an ideal way of replacing teeth in people with high decay rate, such as patients prone to dry mouth.
Low Radiation Digital Radiographs
Intraoral Camera
Relaxation and Sedation Dentistry
New Patients Welcome
Latex Free Office
Emergencies Welcome