Other Services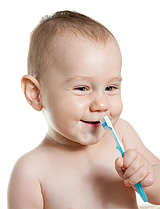 We are happy to see young children and infants in our Centrepointe office.
We recommend the first dental visit as early as one year of age. At this age we examine the infant's mouth but an important part of this first visit is focused on advising the parents on how to establish sound eating and oral care habits to ensure their child has the best start in life for maintaining a healthy mouth.
All children are introduced to dentistry in a very gentle and careful manner. We are using special, age related words to explain to the child what we will be doing. We are always avoiding any threatening words, such as "needle", "injection" or "drill".
Here in our Centrepointe office we recognize that the first contact with dentistry can have a huge impact on the way a person will perceive the dental experience all thru their life, so we are very careful not to create any negative memories.
We want our young patients to come visit us smiling, so we make dentistry a friendly, fun, easy experience.
Dentistry for the anxious patient
At our Centrepointe office, we recognize that a lot of patients have a fear of dentistry, and we make every effort to help them overcome their dental anxiety.
We begin this process at the first phone call, while you make your appointment with us. Please indicate that you are nervous about your dental visit, and we will inform you what will happen during your appointment and answer any of your questions to ensure your comfort and peace of mind during your visit.
Our comfortable waiting room features a spa-like atmosphere. Soothing music and large television screens with calming nature videos are featured in the waiting room and each of the treatment rooms. Alternately, you can bring your own music device and slip away into your favourite music during treatment.
Our utmost goal is a painless, stress free dental experience for all our patients. Most patients experience no discomfort whatsoever during their treatment. We are using topical anaesthetics to numb the gums before the local anesthetic injection is administered. We ensure the teeth we are working on are well frozen before proceeding. For children and patients with fear of injection we are offering 'The Wand" which is an electronic injection device delivering a very slow, consistent flow and minimizes the discomfort during injection.
During the procedure we ask patients to signal if they need a break for any reason and to communicate to us if there is anything we can do differently to make the experience more comfortable.
For extremely anxious patients oral conscious sedation medication can be prescribed to take the edge off.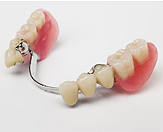 Multiple missing teeth in the same arch can be replaced by a single dental appliance called a partial denture.
Partial dentures use the remaining teeth as anchors and attaches to them by means of clasps. Partial dentures are removable dental appliances, meaning they are not permanently fixed to the mouth, and the patient can remove them as needed for oral hygiene and at bedtime.
There are multiple designs and materials available for partial dentures, most common are a combination of cast metal and plastic, or full plastic with metal clasps.
Different designs and material options will be discussed with you in detail, as they may apply to your unique situation.
Partial dentures allow better chewing, prevent teeth shifting, restore the smile , help with speech and lip support and remains the most inexpensive way to replace multiple missing teeth.
Low Radiation Digital Radiogaphs
Intraoral Camera
Relaxation and Sedation Dentistry
New Patients Welcome
Latex Free Office
Emergencies Welcome